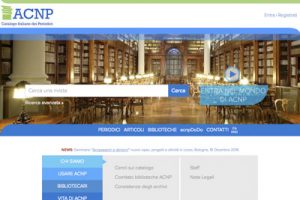 Italian ACNP Periodicals Catalog
Recently, the new ACNP catalog has been published, a catalog of periodicals owned by Italian libraries. By searching from the http://acnpsearch.unibo.it access point, you can find which Italian libraries have a specific review, what is its availability in vintage volumes and volumes and what services the library offers about a loan or consultation.
Integrated with the portal is the largest and most detailed register of Italian libraries. The portal also offers a library loan service and a gift offer service.