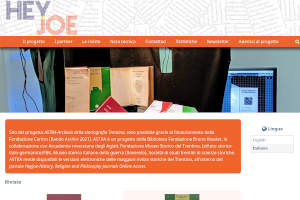 HeyJoe
Sito del progetto ASTRA-Archivio della storiografia Trentina, reso possibile grazie al finanziamento della Fondazione Caritro (Bando Archivi 2021). ASTRA è un progetto della Biblioteca Fondazione Bruno Kessler, in collaborazione con Accademia roveretana degli Agiati, Fondazione Museo Storico del Trentino, Istituto storico italo-germanico/FBK, Museo storico italiano della guerra (Rovereto), Società di studi trentini di scienze storiche.
ASTRA rende disponibili le versioni elettroniche delle maggiori riviste storiche del Trentino, all'interno del portale HeyJoe-History, Religion and Philosophy Journals Online Access.
The platform has been completely customized in terms of graphics, templates and data import plugins.